Various Reasons You Must Optimize Your Website for Mobile: Statistics showed a tremendous increase in last few years on the usage of smart devices for internet searches. In this modern era when we are so technologically advanced that we can rely on our smart phones to provide us all the relevant information from Internet.
For business to be sure that that they are not losing the searches from any of the devices they need to insure that their websites are optimized for mobiles. Researches showed that mobile responsive websites generate more sales and makes it user friendly to its users.
Considering how important a website can be for any small business it seems only natural to take the extra care to ensure the website is mobile friendly. It's hard to believe being one of the most developed countries and amazing to see how so many Australian websites are still not optimized for a mobile experience.
Few reasons for small businesses must to have a mobile optimized website: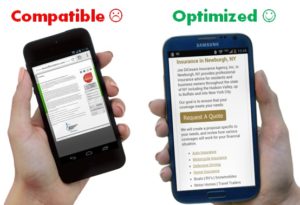 1. Mobile Users are Different
It might be hard to believe but that's a fact that mobile users have surpassed the desktop users in numbers. Also some stats revealed that Mobile users spend more money per average purchase than desktop users. Mobile users typically want information in quick. A survey on impulsive buying, Customers reported that their mobile purchases are often impulse buys.
2. Mobile Gets Traffic
Since 2015 All search engines including Google and Bing made clear by changing their algorithms https://moz.com/google-algorithm-change
As Google made clear with last year's Hummingbird update the future of search is mobile and websites that aren't usable on handheld devices will see their search rank suffer for it.
With over one-quarter of global web searches conducted on a mobile device by over a billion users worldwide, if not more mobile websites are just as important, than desktop versions. Report says that smartphone users do engage with mobile websites and apps while watching TV, commencing work, or infact while using a computer.
3. Better Brand Engagement
People like your brand more when you offer a satisfying mobile experience and they're more likely to return to your website later on a desktop. Over 80% of people report moving between devices, or "multi-screening", to accomplish a task
Secondly, if your mobile website is difficult to navigate customers are more likely to go to the competition than to visit you on a desktop computer. If you cannot update your business with the needs of the client or  to not be serious about the technological changes, you may lose the potential opportunity for the sale and risk losing a customer permanently to a competitor of yours who is willing to change or have changed their website.
If you are not sure about your website being mobile responsive please visit the Google mobile-friendly test and run a free mobile test. https://www.google.com.au/webmasters/tools/mobile-friendly/
If you need a website or don't have the mobile friendly website just contact the team at Make My Website to build one for at a price you want to pay.
Read more about  SEO and Its Importance
Read more about  How website can add value to your business