On average, a person is exposed to somewhere 4,000 to 10,000 content pieces every single day. Considering how much information we are surrounded by every day, it's crucial that we, as marketers, must perform exceptionally to stand out from the crowd.
And this is where content marketing comes and creates its territory to inspire, educate and entertain the audience while keeping the marketing agenda on the other side of the scale.
As the term suggests, content marketing is about putting across the different forms of content (blogs, videos, social media posts, podcasts etc.) to attract and retain the audience base, making the best possible use of digital platforms.
The execution of a content marketing strategy in a perfect sense isn't as simple as it may appear in the above definition. It takes into account a lot of factors for someone to effectively steer the marketing wheel and rotate it in the desired direction.
If we have to break it down in simple terms, it will start from gaining an in-depth understanding of your audience and then establishing an authentic bond so that the marketing finds a straight route from customers coming your way in place of your going after them.
Let's approach it step-by-step and see how we can succeed in digital marketing efforts by channelising the true potential of content marketing.
What is Content Marketing in SEO?
Content Marketing essentially sends out relevant and helpful information for the users to extract value from it. The intent of the blogs and other content floating in the digital space is to give users some value, whether it's solving their queries and giving them the relevant solutions to their problems or bringing forth the valuable products and services to make their living convenient and hassle-free.
The prime step of content marketing begins with identifying the nature, goals and problem areas of the readers and coming up with probable and useful solutions to serve their needs. In other words, it's primarily about focusing on the buyer's persona, meaning finding a detailed description of the nature, interest, preferences and other pertinent areas of the audience and then putting out the different types of content and establishing an authentic relationship with them using a strategic approach.
Even if you feel lost on the way and don't know how to start your content marketing journey, there are countless resources available on the internet to help you along your way.
For instance, Hubspot offers a free tool called Buyer persona Generator to help you get started and understand your target audience better than ever. Similarly, you'll find endless blogs, tools and other content to propel your content marketing drive and advance your efforts in the field of digital marketing.
The essence of content marketing lies in attaining SMART goals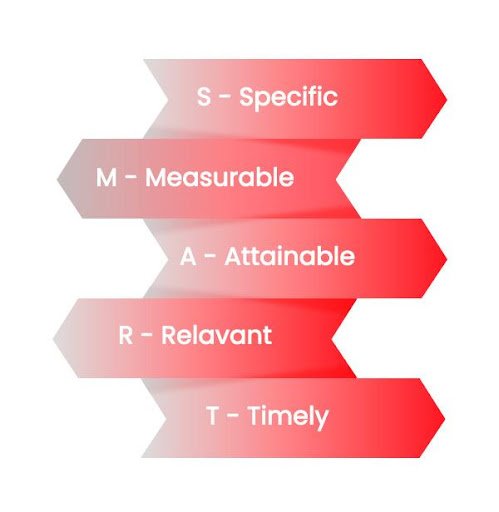 Content Marketing Vs Content Creation
The base difference between content creation and content marketing is about the vision. In content creation, the entire focus is on curating unique content, whereas content marketing is about seeing the entire campaign from a bird's-eye view and then working in a specific direction with a definite goal.
Putting your complete attention on content creation without investing your thoughts and efforts in content marketing is akin to driving a car and not knowing where it is heading.
Attaining a specific goal becomes a lot easier when the specific goals are set in place. Similarly, reaping the desired outcomes in the domain of digital marketing becomes a lot easier when the content – which is the primary base of any marketing, is produced following a strategic plan.
Any content created with a purpose becomes a part of content marketing. Content marketing strategies spread their branches to various other forms of marketing (influencer marketing, inbound marketing etc.), eventually working in coherence to make the most of digital marketing.
Purpose of Content Marketing
The purpose of content marketing is to work from a strategic standpoint. It aspires to support digital marketing tactics, where you plan and exert without leaving any loose ends. It is a proactive approach where the businesses work with an intent to prepare the whole ground well in advance and then funnel down the prospects, devising sequential schemes and strategies.
Here's what comes along with the content marketing campaigns:
Increase in the amount of Traffic
Increase in Brand Awareness
Increase in Brand Authority
Greater Outreach
Higher trust among the audience
Filling the gaps between the different stages of a sales funnel
Higher engagement
Targeted Actions
Optimal utilisation of the available resources (time, efforts and talent)
Focussed goals and actions
Role of Content Marketing in Digital Marketing
To make a planned move in the context of digital marketing, it is imperative you understand the stages of the buyer's journey. The entire ambit of content marketing survives within the central field of the buyer's journey and calls for meticulous analysis.
In a broader perspective, a sales cycle is divided into 3 main stages based on which you are required to segregate your marketing efforts. Here's how the different lenses of content marketing are created.
Awareness Stage: The awareness stage is primarily the stage where the focus is placed on brand awareness. The content is curated to attain the maximum outreach and produce content that is educational in nature.
Consideration Stage: The consideration Stage is where the focus tilts from brand awareness to business marketing. Meaning, now the intent behind curating the content is to educate the audience while redirecting their attention onto your business.
Decision Stage: The decision stage is where the full marketing force is applied to convert the prospective clients into leads. The content produced in this stage is directly focused on promoting your products and services when they have formed a certain affinity with your brand.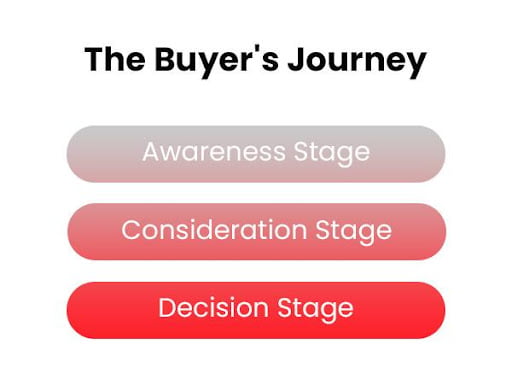 Content Development Strategies for Digital Marketing
For the action part, where you must be wondering about the actionable steps you can make in the direction of a successful marketing strategy, here's what you could do to reap the benefits of content marketing.
You may,
Write and upload blog posts to help your readers find the best solutions to their pain points.
Upload Video Content to keep your audience well informed and entertained on the subjects related to your industry.
Create ebooks on the topics that your audience wants to learn about.
Create informative and attractive social media posts to connect with the audience organically.
Join discussion forums and present expert tips and advice on related topics.
Send newsletters to your audience to keep them well-posted in terms of your products or services or otherwise.
Among the most important content development strategies for digital marketing is analysing the metrics and measuring the marketing efforts. The most prominent of all is Google Analytics which gives away the accurate results of how the content is performing and what needs to change in the course of your efforts.
Take Away
Content is the pillar on which the entire digital marketing efforts are based. The phrase –Content is king, is there for a reason and not having any content would impair the entire digital marketing campaign. From spreading the word of the brand to having the actual leads, it takes consistent and planned efforts from content marketing to work towards the goals of digital marketing. So, it won't be wrong to state that digital marketing would lose its existence without content marketing.
Also, to fructify your content marketing efforts, there are a lot of automated tools that you can work with. For instance: Grammarly to curate error-free content, Semrush to do the topic and keyword search, Hubspot for generating blog ideas, Buzzsumo to have intelligent statistics in place and know how the existing content is performing, Keyword Tool for the keyword analysis and so on. Also, there are a great number of tools available with which you can create and organise your content calendar to schedule and post content on a timely basis.
We hope the above content provided a basis for you to start with your content marketing campaign. Also, if you wish to seek the assistance of the experts and want professional execution from scratch to the end, look no further than Make My Website.
Give us a call, and we would be more than happy to design a custom campaign and deliver the best results.